ISLAMIC ART HISTORY AND THE GLOBAL TURN: THEORY, METHOD, PRACTICE
November 11-13, 2023
VCUarts Qatar
 |

Doha, Qatar

The 10th Biennial HBK Symposium on Islamic Art examines how art history's concerns with the global turn, and associated calls for decolonial, diverse, inclusive, and equitable histories, have been taken up by scholars, educators, curators, and related practitioners of Islamic art history.  Although scholarship on how Islamic art is studied, collected, and exhibited are on the rise, what is less addressed is how, and to what extent, these methods have related to pedagogical and curating practices. Bridging this gap between theory and practice, the 2023 Symposium will explore how the past two decades of debating methodologies for diverse, inclusive, decolonial, and global Islamic art histories have taken shape in classrooms, galleries, and related settings.  The Symposium aims to highlight the challenges – and not just successes – of teaching, curating, and researching Islamic art history in a global context, while also contributing new perspectives to discourses on the global turn writ large.
Symposium Chairs
Hala Auji is an associate professor of Art History and the Hamad bin Khalifa Endowed Chair for Islamic Art. Informed by her interdisciplinary background in graphic design, criticism and theory, and art history, Auji's research explores the history of the book, print culture, cultural modernity, museum practices, and portraiture in the Islamic world, with a focus on Arabic-speaking communities of the Eastern Mediterranean. Her work evidences intersections between book history, manuscript studies, art history, design history, comparative literature, and Islamic and Middle East studies. She is the author of Printing Arab Modernity: Book Culture and the American Press in Nineteenth-Century Beirut (Brill, 2016) and The Arab Nahda as Popular Entertainment: Mass Culture and Modernity in the Middle East, co-edited with Raphael Cormack and Alaaeldin Mahmoud (London: I.B. Tauris/Bloomsbury Publishing, Dec. 2023). She has also published her research  in various journals such as the International Journal of Islamic Architecture, Review of Middle East Studies, Middle East Journal of Culture and Communication, Visible Language, and Bulletin de correspondence hellénique – modern et contemporaine. At VCU, Auji teaches graduate and undergraduate courses on the material culture, art, architecture, and exhibition history of, and about, the Middle East and wider Islamic world. Before joining VCU, she served as an associate professor of Islamic art at the American University of Beirut, Lebanon. Her research has been supported by fellowships from the Forum Transregionale Studien (Berlin), the Houghton Library (Harvard), and the College Art Association. She is currently an editorial board member of the journal Art in Translation and serves as an Assistant Editor for the International Journal of Islamic Architecture. Auji received her Ph.D. in Art History from Binghamton University, State University of New York. She holds an MA in Criticism and Theory from Art Center College of Design (Pasadena) and a BFA in Graphic Design from the American University of Beirut.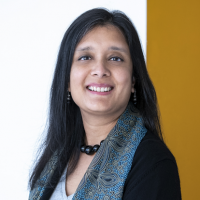 Radha Dalal is Associate Professor of Islamic Art and Architecture and Director of Art History at VCUarts Qatar. Dalal researches visual cultures of mobility and urbanism with a particular emphasis on the Ottoman Empire and its socio-political interactions with other European and Asian polities during the nineteenth and early twentieth centuries. At present, she is working on a monograph project titled The Khilafat Movement and Print Media in British India and Ottoman Turkey, 1919-1924. Her research has been supported with funding from VCUarts Qatar, the MacArthur Foundation, the Kress Foundation, the National Endowment for the Humanities, and the Qatar National Research Fund. She co-edited the proceedings of the eighth and the ninth Hamad bin Khalifa Symposia on Islamic Art—The Seas and the Mobility of Islamic Art (Yale University Press, 2021) and The Environment and Ecology in Islamic Art and Culture (Yale University Press, 2023). At VCUarts Qatar, Dalal teaches a wide range of undergraduate courses including global art and Islamic art surveys, upper-division thematic offerings on various aspects of Ancient, Islamic, Asian, and European art, and senior seminars, especially related to her own research on collective memory, mobility, and visual culture. Before joining VCU, she taught at the College of Charleston. She currently serves on the College Art Association's Board of Directors and as the Vice-President of the Society for Global Nineteenth-Century Studies. Dalal received her Ph.D in Art History from the University of Minnesota. She also earned her MA in Art History there with a focus on Islamic and Chinese Art. She holds a BA in Art History and Archaeology as well as a BS in Neurobiology and Physiology, both from the University of Maryland, College Park.